My 2020 Convention Speech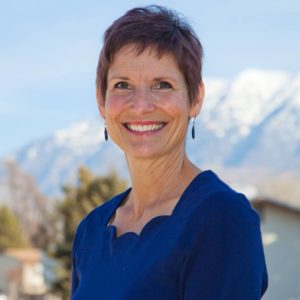 Marsha Judkins graduated from Bingham High School in South Jordan (Go Miners!). She then moved to Provo to begin college at BYU on an academic scholarship. Marsha changed her major three times—Mathematics, Piano Pedagogy, Math again—, married a fellow student, had five of their seven children, and moved to their current home west of the freeway in Provo before graduating with a B.A. in Political Science with a minor in Mathematics ten years after she started.
Marsha was lucky that she was able to choose to be a stay-at-home mom to her and Randy's four daughters and three sons. During this time, she volunteered extensively in their local schools, the community, their church, and local politics. As a citizen working within these organizations, she saw the difference madeby good, responsive leaders.
When her youngest child was 10, Marsha went back to BYU and earned a Masters in Public Administration. After graduating, she worked as a Children's Librarian at the Provo City Library (one of the most fun jobs ever!), and then began teaching math at a private college in Salt Lake City. Marsha currently teaches part-time in the Developmental Math Department at Utah Valley University and loves her job.
In 2012, Marsha ran for a seat on the Provo City School Board. She loved her time on the Board, but decided not to run again at the end of her term. While on the Board, she was amazed at how many education bills were passed into law every year: some helpful, some neutral, and some harmful to Provo District. Despite dozens of these bills being presented on the hill each year, the members of the school board were rarely asked how a particular bill would affect local students, teachers, budgets, or schools. Marsha firmly believes that the best decisions with the fewest unintended consequences are made when all stakeholders have input.
Marsha regards her family as her greatest asset. Growing up in a politically active and patriotic household, she learned at an early age how precious our freedom is, and how truly blessed we are to live in such a great country. She learned to listen to and seriously consider someone else's point of view and opinion, even when they differ from her own.
Marsha and Randy still reside in Provo where they raised their seven children and love spending time with their family, especially their twelve grandchildren.