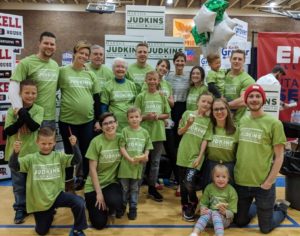 I was so happy to have so much of my family be able come and support me at the County Convention. They stayed and stayed and stayed (these things take FOREVER!) so that they could hear my speech, and they were so encouraging and helpful. Pictured with me are my parents and five of my kids and their families. My husband, sadly, was at a work conference, and two of my children and their families live out of state. These amazing people have shaped my life in wonderful ways and I am so glad they were there! I ended up two votes away from avoiding a primary election, and so Republican voters will be deciding between Parl and me on June 26th. I am excited to talk to the people of House District 61 and get to know you better!
Here is the text of my speech, just in case you are interested. 🙂
Running as a candidate through our caucus and convention system has been such a busy, but also such a fun 3 ½ weeks. I would like to thank my family for being so supportive, and also Parl and Howard for being kind and generous opponents.
I also want to thank you for being delegates, for reading my literature, for telling me about the issues that are important to you, for asking me questions, for carefully considering my answers, and for the thought, time, and effort you have put in to vetting the candidates who are hoping to work for and represent you.
The first time I saw a map of our district, I thought, "Holy Cow! This is a huge area!" but as I went through our district and knocked on your doors, a realization came to me: Our district isn't huge, it is my neighborhood. Because I live in the west central part of our district, I travel these streets in west Orem and Provo every day. I have enjoyed visiting your homes and putting names and faces to the houses on these streets.  
I want to be your representative, and to do that effectively, I will continue to put in the effort to know you, your neighborhoods, and the issues and concerns important to your communities.
I ran for the Provo School Board because I wanted to advocate for parents, students and teachers. I am running to be your representative because I want to advocate for you. I don't know everything, but I know people who do. Here in this room there are lawyers, farmers, doctors, parents, educators, social workers, realtors, dentists, business owners, blue collar workers, scientists and more–all with unique backgrounds, experiences, and ideas that can inform me in my decision making.
We aren't going to agree on everything, but I can promise that I will be honest with you, listen to you respectfully, and thoughtfully consider what you say. I have a track record of being open, accessible, and accountable to a constituency, and I will be open, accessible, and accountable to you.
I believe in a well-run state that invests in an excellent educational system; produces well-educated, job-ready workers; has an easily accessible, well-planned transportation system; has low taxes; offers plentiful recreation and beautiful open spaces; has well-thought-out, sustainable housing solutions; and provides future-ready infrastructure. 
But don't get me wrong, I'm a conservative. I raised my large family on a sometimes very tight budget, and I know how to prioritize spending and stretch a dollar. I believe we can thoughtfully plan for the rapid growth our area is receiving, while also being respectful of the taxpayer, our neighborhoods, and the principles that have made our area a great place to live, work, and raise a family. 
I can promise you that everything I consider or vote on will be done with taxpayer return on investment in mind. 
Again, I'm Marsha, and I ask for your support and your vote so we can start working together for a great future. Thank you!